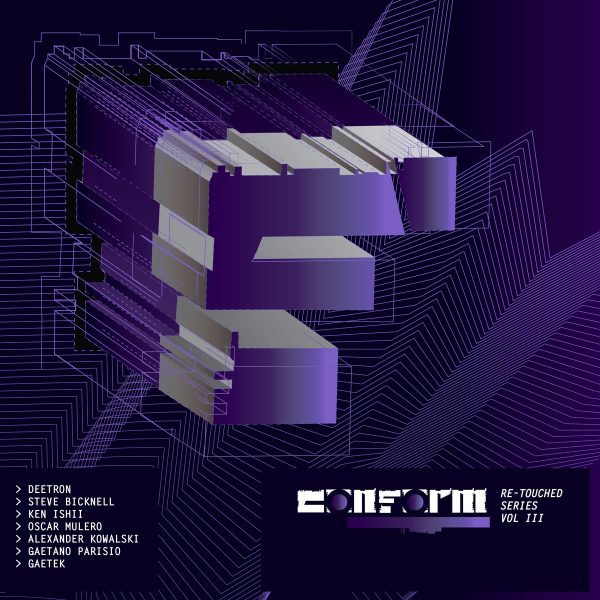 Conform Re​-​Touched Series Vol​.​III
Includes unlimited streaming via the free Bandcamp app, plus high-quality download in MP3, FLAC and more.
W&P by Gaetano Parisio – Remixes by Deetron, Steve Bicknell, Ken Ishii, Oscar Mulero and Alexander Kowalski

CatNo: CNFR027
Vinyl Release Date Nov 27th 2020
Digital Release date Dec 11th 2020
Once again Swiss legend Deetron, through his class, hits the mark. His Vesuvius edit of Gaetek's is a slamming track with driving drums and worms synths that bring it into the present day with a real sense of style.
Steve Bicknell is another techno legend who runs his own 6dimensions label. His edit of a track from Gaetano's Ritmatica goes as usual directly to the point. Steve stays true to the original sense of the track by masterfully adding his "Lost" touch through reverbs and percussion.
Ken Ishii, a true Japanese techno titan, incredibly manages to bring color and life to Gaetek's Advanced Series Vol. II. The result is amazing! The track is a dance floor killer. Its vintage charm is the key!
The Spanish Maestro, Oscar Mulero, brings his dark and hypnotic style to the original Gaetek track. His Ømre Edit totally distorts the original one using percussion and filters giving that hypnotic flow for which the Madrid artist has always been known and respected throughout the techno underground scene.
To close this majestic EP Alexander Kowalski, the backbone of the German techno scene, through his incredible talent creates a true masterpiece. His edit of Gaetano Parisio's Quake is undoubtedly something special. The syncopated rhythm and the addition of synths, create a third millennium atmosphere. His crystal clear talent as a producer is captured in these 6.25 mins!
Lovers of true techno will not be disappointed. This is for sure!