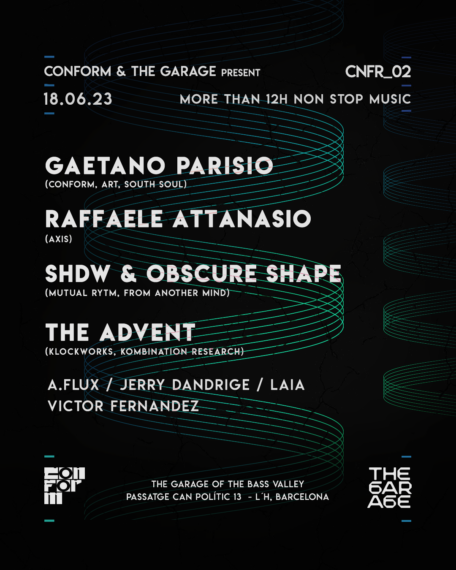 18 Giugno 2023 — 19 Giugno 2023
Passatge Can Polític 13, L'Hospitalet de Llobregat
Time: 16:00
Venue: The Garage Of The Bass Valley
Zipcode: 08907
Conform & The Bass Valley present CNFR02
Conform Records is joining forces with The Garage of The Bass Valley to bring you an unparalleled techno experience during the Sonar week on June 18th.
Prepare to be blown away by an exceptional lineup of techno masters: Gaetano Parisio, Raffaele Attanasio, SHDW & Obscure Shape, The Advent
Supported by: Jerry Dandrige, Laia, A.Flux, Victor Fernandez
Get ready to dance for more than 12 hours of proper techno in Barcelona's ultimate techno club, boasting the city's finest sound system.
Limited capacity means limited tickets available, so secure your tickets, mark your calendars.
See you on the dancefloor! –> https://bit.ly/Conform02Tickets
#TechnoParty #ConformRecords #TheGarageOfTheBassValley #SonarWeek #Barcelona #TechnoMusic #ElectronicMusic #Clubbing #PartyVibes