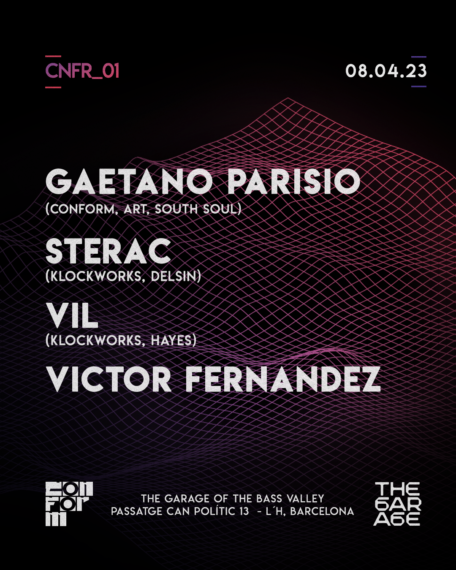 8 Aprile 2023 — 9 Aprile 2023
Passatge Can Polític 13, L'Hospitalet de Llobregat
Time: 23:45
Venue: The Garage Of The Bass Valley
Zipcode: 08907
Conform Records has built a reputation as one of the most respected labels in global techno music. Founded in 1997 in Naples, Italy by Gaetano Parisio, the artistic vision behind the label was to create a style of techno that would truly represent the Neapolitan sound. The label is focused on one musical thread, always trying to offer quality music created for artistic, non-commercial purposes.
Conform records boss Gaetano Parisio will now launch his Conform label party "CNFR" in Barcelona, in close collaboration with The Garage of The Bass Valley.
Taking over four Saturday nights from 8th April to 2nd December, Gaetano will DJ at each event and will be joined by international guests, who are to be announced in the coming months.
Speaking about his new project, Gaetano said: "I was looking for a club in Barcelona with a proper sound system… since the very first moment I met the owner, I understood that The Garage of The Bass Valley was the right place to do it. They are really focused on promoting quality techno and this is gold for our scene"
The first event, CNFR01, will feature the Dutch master Sterac, alongside Portuguese producer Vil, the Spanish Victor Fernandez and Gaetano Parisio himself.
The Neapolitan artist and label founder is also happy to announce that the second edition of the party – CNFR02  – will take place during Sonar week and will feature a massive lineup that we can't wait to announce…
In the mean time, we look forward to sharing the dancefloor with you on the 8th April.